Sage42, an enterprise software development firm, has announced the immediate availability of Ventana, a cloud-based enterprise digital communications platform. Ventana is designed to streamline interdepartmental customer service and support (CSS) workflows, allowing companies to efficiently manage customer interactions on social media and messaging apps using a single window.
Ventana comes with the Taboo® Filter, a feature that safeguards businesses by preventing the use of inappropriate content during customer interactions. It ensures compliance with rules and promotes a positive company image by blocking profanity, culturally insensitive words, images, and even emojis.
Eugene Gan, CEO of Sage42, highlighted the increasing trend of customers using social apps like WhatsApp for business purposes, which inspired the development of Ventana. The platform aims to enable businesses to embrace digital customer service and support using an efficient and effective approach.
Patrick Riemer, Sage42's CTO, emphasized that Ventana is a versatile modular application that helps businesses streamline their customer support and marketing operations. It offers flexibility by allowing customization and adaptation according to specific business needs. With Ventana, managing different business functions such as marketing, sales, customer support, and operations becomes effortless.
While other solutions focus on customer-facing technologies like AI chatbots, Ventana prioritizes effective collaboration and orchestration between departments and teams to enhance communication handling. This ensures optimal productivity and prevents delays in responding to customers.
Another advantage of Ventana is the availability of code-free bots, which authorized users can independently create for their respective departments and update at their convenience, without relying solely on the company's IT team.
With Ventana, companies can customize their chatbots to support single or multiple social media platforms, providing a high degree of flexibility not commonly found in existing chatbot solutions.
Moreover, Ventana generates insightful reports that provide valuable information for enterprises to grow their business.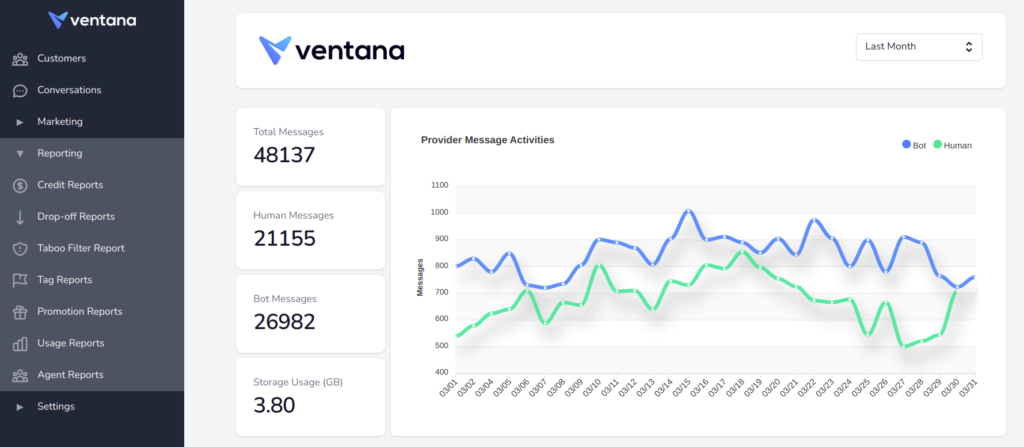 Eugene highlighted that Ventana takes an unconventional "inward-looking" approach to customer communications management, optimizing internal CSS workflows. This enables companies with multiple departments and cross-regional operations to effectively manage and have control over their communications with customers, setting Ventana apart from existing solutions in the market.
Sage42 is actively seeking strategic partners to expand Ventana's capabilities. Curious users can sign up for a trial account to experience Ventana in action.
8 June 2023