Bank Negara Malaysia has announced the winners of the Anti-Money Laundering/Counter Financing of Terrorism Hackathon 2023, where participants from various sectors competed to develop innovative digital tools to combat financial crimes. The winning prototypes showcased exceptional creativity, with solutions ranging from privacy-preserving insights exchange to real-time detection of suspicious activities and enhanced communication security.
---
KUALA LUMPUR, 10 July 2023 – Bank Negara Malaysia (BNM) today unveiled the winners of the highly anticipated Anti-Money Laundering/Counter Financing of Terrorism (AML/CFT) Hackathon 2023. The Hackathon, which attracted over 660 participants from 140 teams representing more than 20 countries in the Asia-Pacific region, showcased groundbreaking prototypes of innovative digital tools designed to combat financial crimes.
The AML/CFT Hackathon, launched in April 2023, brought together regulatory bodies, law enforcement agencies, financial institutions, private entities, and undergraduate students in a collaborative effort to develop cutting-edge solutions. Throughout the Hackathon, participants engaged in workshops and mentoring sessions led by 30 technology and AML/CFT experts, providing valuable guidance and motivation.
The winners of the AML/CFT Hackathon 2023 in their respective categories are as follows:
Public Sector:
Champion: Verifier (Australia)
1st runner-up: CBI India (India)
2nd runner-up: TrackAML (Indonesia)
Private Sector:
Champion: RMATES (Malaysia)
1st runner-up: The Interns (Malaysia)
2nd runner-up: Currypuff (Malaysia)
Open Category:
Champion: KoderX (Singapore)
1st runner-up: H7N (Brazil)
2nd runner-up: MATA (Malaysia)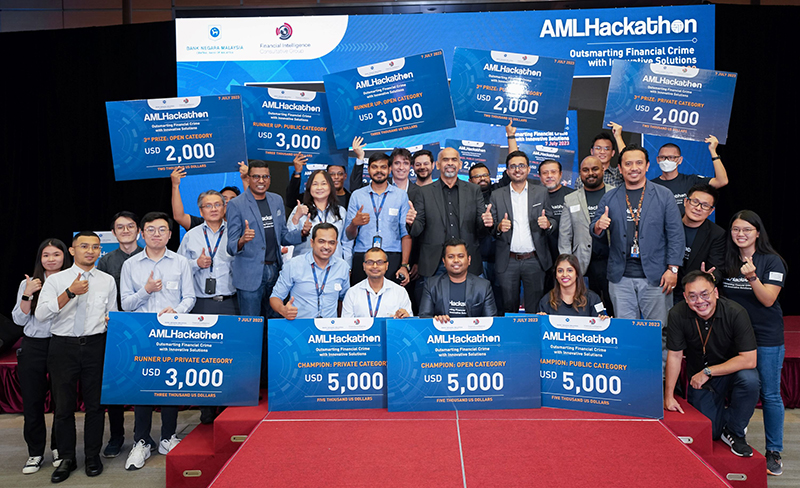 Each category champion received a cash prize of USD5,000 and will have the exclusive opportunity to present their winning prototype to the heads of delegates of Financial Intelligence Units at the upcoming Financial Intelligence Consultative Group (FICG) meeting in July.
The winning prototypes impressed the judges with their remarkable creativity and potential impact in combating financial crimes. Verifier FIX by Verifier enables banks to exchange insights on customer financial crime risks while preserving privacy. OmniQuest by RMATES uses digital footprints from mobile devices to identify suspicious activities in real-time, such as irregular transaction timings and locations. SentinelGuard by KoderX aims to enhance communication security between banks and end-users, reducing malware and impersonation attacks through an end-to-end encryption platform.
Dato' Marzunisham Omar, Deputy Governor of Bank Negara Malaysia, said, "The winning prototypes demonstrate that we can effectively outsmart financial crimes with innovative solutions. The next crucial step is to transform these prototypes into tangible digital tools. I urge financial institutions, regulatory bodies, and law enforcement agencies to explore these innovative solutions and work together to combat financial crimes effectively."
Bank Negara Malaysia extends its heartfelt congratulations to the winners and expresses gratitude to the judges, mentors, and participants for their unwavering commitment and collaborative efforts, which contributed to the resounding success of the AML/CFT Hackathon 2023. A recording of the closing event is available on the AML Hackathon 2023 Facebook page at facebook.com/amlhackathon.