Ohara Florist has been established since 1970s and has built a sound reputation in its products and services. The company name 'Ohara' comes from the famous Japanese Ikebana School where Mrs. Chew or better known as Honey Bee received her Master in Ohara Ryu Ikebana Floral Art. Ohara Florist provides various services in retailing such as worldwide flower delivery, fresh & artificial arrangement, bridal, funeral, gifts and accessories, antiques, painting and floral courses.
They are a member of many International Organisations such as America Floral Society, Interflora and World Flower Council. They had also built a floral organisation called Ohara Floral Society which had received many recognition from the local community. Honey Bee Lim is a well known floral designer worldwide. She holds an AIFD title (American Institute of Floral Designers) and recently received a WFC (World Flower Council) Floral Nobel Prize in year 2001. In addition, she had contributed to many charity demonstration throughout Malaysia.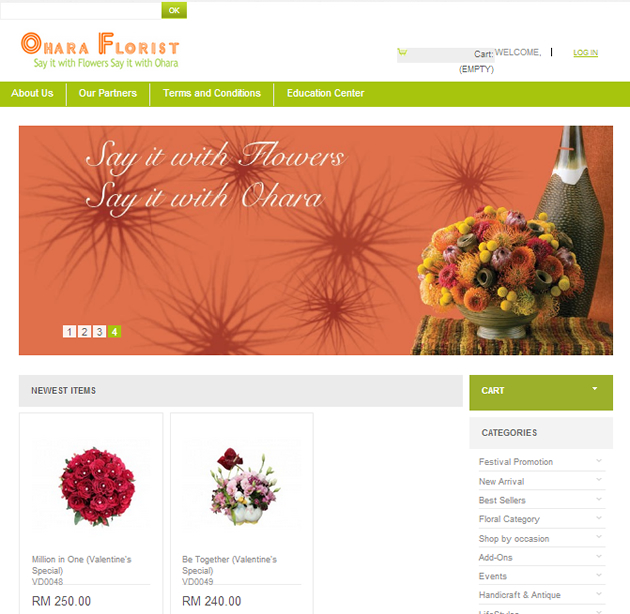 Business Name:
Ohara Florist Sdn Bhd (111364-K)
Business Address:
21, Lintang Burmah, 10250 Penang, Malaysia
Online Store URL:
www.oharaflorist.com
Domain Name Admin. Address:
21 Lintang Burmah Georgetown, Penang 10250 MY
Merchant Email:
sales@oharaflorist.com
Merchant Contact No.:
+604-2266323, +604-2286977
Years in e-business:
Since 23 Dec 2003
Business Category:
Flowers & Gifts
Payment methods:
Visa, MasterCard, PayPal
Shipping methods:

Malaysia:

Not stated

International: N/A

Shipping charges:

Malaysia:

Please check with the merchant at sales@oharaflorist.com

International: N/A

Shipping period:

Malaysia:

Order received before 12 noon will be delivered on the same day. Order received after 12 noon as well as on Saturday or eve of Public Holiday will be delivered in the next working day. No delivery on Sunday and Public Holiday.

International: N/A

Website developed by:
Zymora Creative Design
Return / Refund policy:
Refusal of any item by the recipient will be considered as delivered and no refund can be made. Cancellation must be done 3 days before the time of delivery otherwise the full cost of the order will be charged. All refund request will be dealt on a case by case basis.
Alexa Ranking (updated on 25/2/13):
4,878,256 (No regional data)
Sites linked in (updated on 25/2/13):
10
Facebook Fans (updated on 25/2/13):
N/A
Has this site hosted malware (checked on 25/2/13):
No, this site has not hosted malicious software over the past 90 days.
If you have any shopping experience with this online store, please leave your comment or rate it below. Thanks.