KUALA LUMPUR, 11 MARCH 2015 (Wed): HappyFresh, a new grocery delivery mobile app (available on Android and iPhone-iPad), made their debut launch yesterday with plans to revolutionise the way consumers shop for groceries throughout South East Asia.
The event took place at The Food Studio in Mont Kiara with the attendance of media friends and the support of HappyFresh "Faces" – Celebrity Chef, Anis Nabilah, who is on a mission to get young people cooking; Mum, Model, and Home Chef, Danielle Graham, who believes the key to keeping the family healthy is by knowing what goes into every meal; and Food Enthusiast and Floral Designer, Dianthus Goh, who knows that eating healthy doesn't mean forgoing good taste!
Urban professionals are familiar with the dilemma of never having enough hours in the day. Juggling a really full plate forces other priorities to slide off, such as eating healthy and having access to fresh and nutritious produce to create hearty home-cooked meals.
CEO, Markus Bihler, described how the idea for HappyFresh came about when the founding team was discussing the difficulties of fitting fresh meals into their busy routines. "The only way was to eat out all the time. But we wanted to know what was going into our food and enjoyed being able to prepare simple meals at home. Having fresh groceries delivered to your doorstep presented the solution," Markus Bihler said.
Today HappyFresh opens its app doors to the public and seeks to help time-starved individuals shop groceries on the go, bringing a wide assortment of their favourite products to their doorstep within a few clicks. The app allows consumers to shop from supermarkets around Kuala Lumpur and in selected areas of Klang Valley, and have the groceries delivered in as little as one hour.
HappyFresh "Faces" Anis, Danielle, and Dianthus each produced a delightful sampler of their favourite recipes, and also shone the spotlight on the convenience of having a fast and reliable delivery service in KL. Not only does HappyFresh deliver within the hour – their personal shoppers ensure that the produce is received in its freshest state, allowing you and your family to never taste withering salad greens again.
For convenience, the app also allows users to choose a one-hour delivery slot in the next few days, in case one prefers to order groceries ahead of time and have them delivered to the doorstep later. The app will be launching in Jakarta later this month.
HappyFresh is being built by an all-star group of seven co-founders, each with successful backgrounds in technology and business: CEO Markus Bihler, CTO Fajar Budiprasetyo, COO Benjamin Koellmann, CFO Dr. Konstantin Lange, CCO Kai Kux, Executive Chairman and Investor Tim Marbach, and Advisor Stefan Jung. The team's impressive past experience includes careers in Blackstone, Goldman Sachs, The Boston Consulting Group, J.P. Morgan, Rocket Internet, Lazada Group, as well as founding and successfully exiting KaufDA (Germany) and Koprol (Indonesia), among other achievements.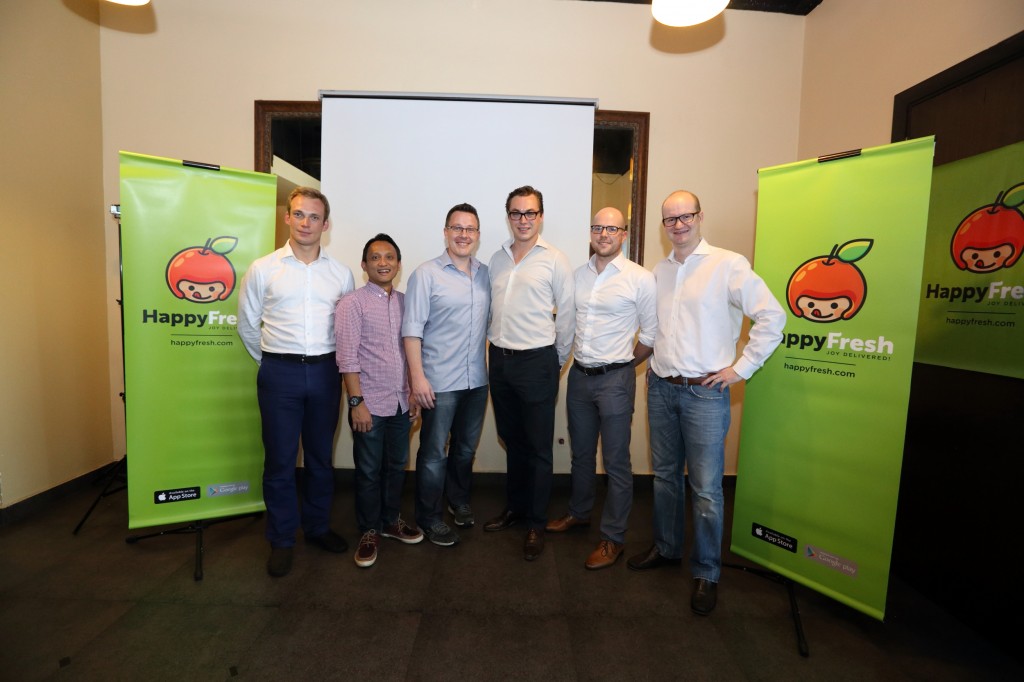 The team recognised the size of the grocery market in South East Asia and the desire by urban population to eat healthy, which was hindered by getting stuck in traffic when going grocery shopping in expansive cities of the region. With mobile savvy local populations in mind, HappyFresh provides a mobile-first solution to the problem, with over 40,000 unique products available on the app at launch. HappyFresh has raised a single-digit million USD seed round financing with local VCs, international angels and institutional capital.
To download the app, simply search for "HappyFresh" in the Google Play Store or Apple App Store.